Karen Elkins has created many platforms for leading edge scientist, philosophers, inspired artists, and innovative thinkers the world-over. From publishing her online magazine Science to Sage, hosting events, or conducting interviews via her podcast or conferences, her creativity and passion is there.
She is the publisher, researcher and designer of Science to Sage E-Magazine. To-date Karen has produced over 68 editions. She has co-created editions for Namaste Publishing, HayHouse and Shaloha Productions.
For 2 years Karen hosted a radio show on the Awakening Zone where her magazine came alive interviewing and she still conducts interviews today. Her 60 conversations include: Gregg Braden, Dr. Bruce Lipton, Dr. Emoto, Dr. Gerald Pollack, Dr. Rupert Sheldrake, Wal Thornhill, John Stuart Reid, Freddy Silva and many more. She has done interviews at the Energy Science and Technology Conference, Electric Universe and the Water Conference. She has also presented at three "alternative energy" conferences.
 Karen is also an award winning author in the area of science for her book Insideout: Revealing the Mysteries of Creation and the Wisdom to Live Consciously Connected.
Karen co-produced and promoted events in Vancouver, BC, for best-selling authors in the arena of science and consciousness, hosting Gregg Braden, Dr. Joe Dispenza, Lynne McTaggart, Micheal Bernard Beckwith and more.
For 23 years, in Los Angeles, Karen had an advertising agency catering to the consumer electronics and the fashion industry. Clients included: JBL, Infinity and Harmon Kardon.
Karen's passion of education evolved out of being a parent and needing to engage in the arena of gifted and creative learners. This inspired an 8 year commitment co-founding Silbury Education for Gifted and Creative Learners and running the Vancouver Chapter of the Gifted Association. She was featured in Vision Magazine as a visionary in the field of education and has been on numerous radio shows including the CBC.
INNOVATORS, SCIENTISTS, NEW THOUGHT LEADERS, ARTISTS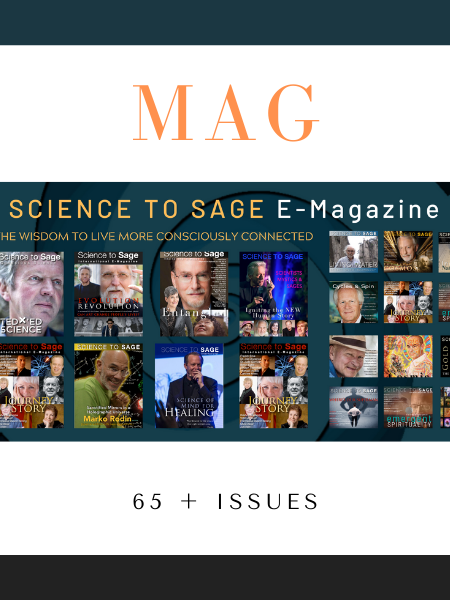 MAGAZINE
68 + EDITIONS
SCIENCE AND SAGE
SERVICES
EDITOR AND DESIGNER ALSO DOES GRAPHIC SERVICE
Our roots
Science to Sage is Founded on an Educational Ideal