Edition 59
THREE GREAT MYSTERIES
Science to Sage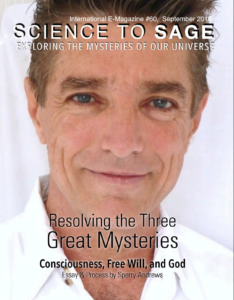 Many religious teachings for millennia have pointed to the realization of this unity as the highest attainment of a human life.
Mutual devotion to this level of realization on the part of countless individuals has led, over thousands of years, to our current process of awakening together. 
There is a growing interest today in the potential of cultivating a common sense — intersubjectively and socially. A commonly sensed consciousness may be the next step in human and cultural evolution, an integral element in the maturation of the universe, and even essential to our survival as a species.
Over the last hundred years, the realizations described in ancient texts are being explored by western scientists. 
Awakening of Awareness
BIO
• AWAKENING AWARENESS INTRODUCTION
As founder of the Human Connection Institute, I orchestrate a large-scale, spiritually-inspired, multinational, scientifically-based, media project, designed to facilitate humanity's imminent leap into collective enlightenment. HCI is an internationally-based institute exploring how every man, woman, and child is linked by our innate capacity for being collectively conscious. We have found that how we pay attention to ourselves, to one another and to nature determines the quality of our relationships in concrete tangible ways. Our research spans all the branches of science exploring inter-subjectively as well as objectively why we have avoided sharing a common sense, how we have been designed by nature to unlearn this habit, and how our interconnectedness can be felt and thought intuitively by every human being. Forty years of trial and error research with hundreds of multicultural groups has shown how to live in harmony. As millions of us learn to pay attention together this promises to eliminate poverty, pollution, disease, crime and war.
ESSAY: Consciousness, Free Will, and God
• INTRODUCTION
• CONSCIOUS EXPERIENCE
• AUTO-BIOGRAPHICAL SKETCH
• AWAKENING THE COLLECTIVE SELF
• UNDIVIDED ATTENTION
• LOVE
• THERMODYNAMICS REVISITED
• THEORETICALLY
• SONOLUMINESCENCE
• EXPLAINING THE ACCELERATING EXPANSION OF THE UNIVERSE
• IS CONSCIOUSNESS, FREE WILL, AND GOD – IN THESE DETAILS?
• IN THE MIND, THERE IS NO MIND
• OBSERVERS AND ACCELERATION CHARGES
• FULLING, DAVIES, UNRUH EFFECT
• TECHNOLOGICAL APPLICATIONS
• HOLOMOVEMENT
• OBSERVATIONAL MEASUREMENTS
• BIOLOGICAL EVOLUTION
• MUCH ADO ABOUT NOTHING
• METAPHYSICALLY
• KNOWING
• NEAR DEATH EXPERIENCES & LIFE BETWEEN LIVES
• GLOBAL TELEPATHY